Get the help you need for IELTS Writing!
Your IELTS test is coming up soon; you've put a lot of time and effort into preparing, but you still don't feel confident with your writing skills. It isn't enough to only be good at writing. You also have to understand how the IELTS examiners expect the question to be answered.
You have to order your ideas and present information in a logical, structured way. It can be tough to do that, especially if you don't have a lot of experience writing academic English! That's where my correction services can really come in handy.
You might not need 1 on 1 help with your IELTS test, but you still might want some help with your writing. English can be a strange language with all its little marks and squiggly lines; the amount of words alone in English can make your head spin.
The IELTS writing test demands that you:
present your ideas clearly
show-off your large vocabulary
write with style and clear structure
use logical connectors and accurate grammar
You have to do this all within an hour! This can be intimidating, especially if you aren't used to writing Academic quality English. The last thing you want is to go to your IELTS test and have no idea how to format your ideas, or how to link them together. A failed IELTS test means:
Wasted time
Wasted effort
And most importantly: wasted money
What a lot of waste! Avoid all of it by investing in experienced help. Have your writing evaluated by a seasoned IELTS instructor who will give you the advice you need to approach your test day confidently.
Accurate Corrections
Your writing will be thoroughly examined for all of the common (and not so common) flaws test-takers make.
You will receive a detailed report on your errors along with showing you where you went wrong and how you can avoid those same errors in the future.
Detailed Advice
In addition, you will receive personalized advice on strategies you can use to improve your writing today. You don't just get your writing checked; you get guidance unique to you.
Recommended
Here are some testimonials from previous clients:
"Kyle responded to my email very quickly after I bought the service. The feedback is very detailed, which is very helpful for me to realize my problems. Also he answered my following question carefully. I really enjoyed the process. I highly recommend Kyle to anyone who needs a professional and sincere teacher." – Sunny
"Kyle's feedback on my essay was quick, comprehensive, understandable, and, all in all, very helpful. It made me more aware of the aspects I have to improve on and gave me a clear direction for my further practice. After getting some unhelpful feedback from other providers, I'm finally motivated for my IELTS studies again. Thank you for the fantastic service, Kyle!" – Juliane
Sample
Below you'll find an example of the quality you'll receive with my writing correction.
You can use any sample question you want for the writing tasks. You can find your own or I can provide you with a list of samples. Please send your writing to me as a word document. Be sure to include the question that you used to create your answer.
Once I receive your work, I will correct it and return it to you along with your corrections and feedback. I will also estimate your band score and provide you a sample band 9 answer.
Below you'll find a real sample of corrections for one of my students for the following writing task 1 question (please note: this is from a student whom I tutor 1 on 1. We cover most comments together verbally so I haven not written full feedback):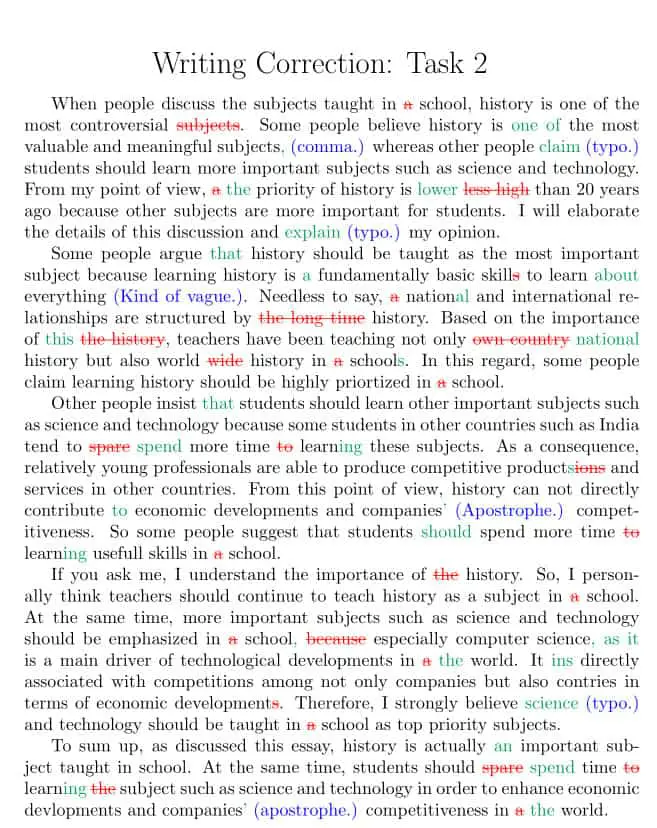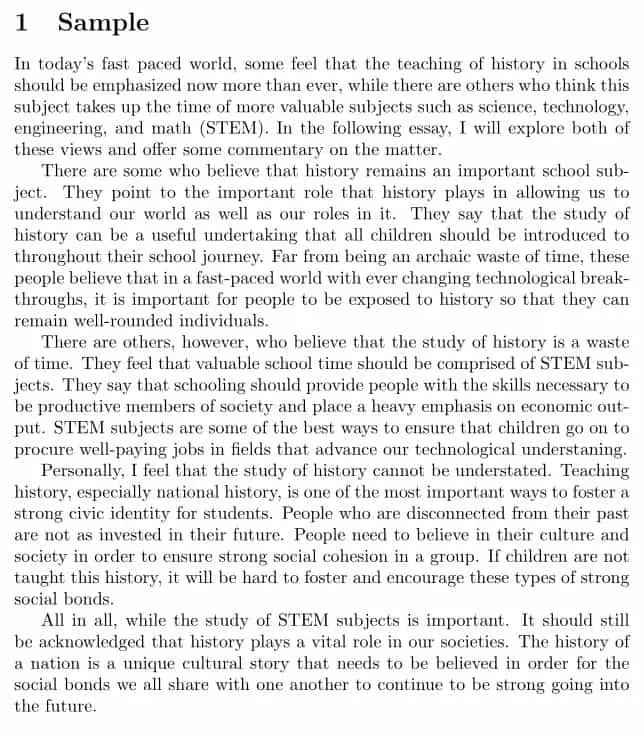 Three Choices
There are three choices for writing help:
A single task correction. If you just need a quick check of your writing with some focused feedback, this is your match.
Do you want a deal? Of course you do! Choose this option and you'll receive 20% off five corrections.
The best deal of them all. Receive 25% off and eight corrections. You won't find a better deal than this one here.
Take a look at the options below and click a picture when you're ready to order.