One on One English Instruction
Have you ever said to yourself, "I should really speak English more often"? This is a common refrain from many language learners. It can be difficult to find native speakers to talk to. I think we've all tried the conversation apps, the social media groups, and meeting new people. It all amounts to the same things:
Wasted time.
Flaky language exchange partners.
You put in more work than the other person.
You find that you don't have anything in common.
You have a hard time relating with the people you find.
You find out that the person is only on the language app to find a date.
Does this sound like your experience? I've been there! It's hard to find a reliable language exchange partner who is interesting to talk to; let alone someone who can help you take your language skills to the next level.
So why not ditch the strangers for a professional? After all, you get what you pay for.
Investing in English conversation gets you:
Someone invested in your success
Someone with experience teaching learners of all ages.
A professional who focuses on the conversation first.
A conversation partner who will go the extra mile to see you reach your goals.
I have years of experience helping language learners reach their goals, big and small. Why trust your time to random strangers on the internet? You don't want to be playing the numbers game when it comes to your language skills. You want results.
My English conversation services focus on what you require as a learner of English. Before we even meet for the first conversation, I get all my students to fill out a needs analysis form. That way, when we do meet for our lesson, we get right into personalized learning tailored to your requirements.
If this sounds like something you need in your life, contact me using the form below.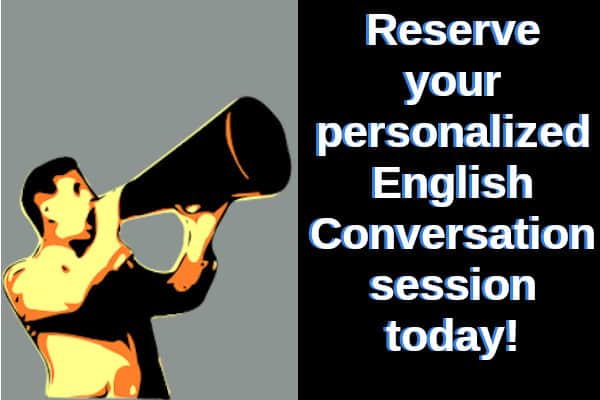 Professional, Focused IELTS Training
English is a huge topic and the IELTS test is too!
IELTS tests every aspect of the English language: listening, reading, writing, and speaking. It can make your head spin wondering where to start.
Wouldn't it be great if you knew your optimal learning strategy and had personalized guidance every step of the way?
Of course it would.
My IELTS lessons aren't surface level material you can find on the web. The material we cover during the lessons is specifically tailored to cut through the confusion of IELTS, and English in general, and fast track you to success.
With over four years of experience teaching learners of every level, I know and understands your individual needs. Heck, I'm a language learner too!
I strongly believe that learning should be fun. Do you remember that boring math class you took in 9th grade; the one where you learned about graphs? Neither does anyone else.
You remember and learn best in a fun, engaging environment. This is what I strive to provide to you.
You will receive not only this top notch training, but you will also receive clear, tangible feedback which will help you visualize your progress towards your ultimate goal: being free of IELTS.
Sound good? Contact me below and we'll get you started on your road to an IELTS free life!
Accent Reduction
One of the biggest concerns many of my students have is whether or not they sound natural while speaking English. This is a concern everyone has while speaking their second language. Having a heavy accent can not only impact our confidence when speaking, but it can also impact our listeners' abilities to understand us as well.
You may have heard from other sources that accents cannot be corrected. People say things like:
Pronunciation can't be corrected.
Adults can't learn how to sound like a native speaker!
You have to be a child to learn proper pronunciation!
The list goes on with other defeatist slogans. This simply isn't true. Anyone can learn to pronounce a foreign language properly.
Think about it like this. Properly pronouncing English sounds is the same as properly playing an instrument.
It's easy to play any musical instrument: all you have to do is touch the right key at the right time and the instrument will play itself.

Johann Sebastian Bach
The idea when pronouncing English sounds is the same. Sounding natural while speaking a foreign language is easy: all you have to do is put your mouth, lips, and tongue into the proper positions and the sounds will produce themselves.
With enough practice and proper guidance you can sound natural while speaking English.
As a language learner myself, I have direct experience with this problem. I have personally overcome this hurdle and helped many others overcome their pronunciation struggles. I can help you too.
Your first accent coaching session will begin before we even meet for the first time. I have all my students prepare by sending me a recording of a passage specifically designed to test all the sounds in English.
This way from the moment we first meet you receive personalized training for your unique situation. We all pronounce things differently. There are no one-size-fits-all strategies for accent reduction. I make sure that none of your time is wasted.
In each 30 minute sessions, we work together to correct any problems with your speech from the first minute using proven strategies that will have you sounding natural and confident when you speak English.
If you're sick of feeling self-conscious while speaking English and want to leave that pesky accent behind, contact me today and start your journey toward native-sounding English!
Contact Me!