The IELTS academic writing task 2 is an opinion essay. Your goal during this task is to read and respond to a specific question asking about your opinion on a topic. These topics can vary in their content, so it's important that you practice answering all types of different questions prior to your test.
While answering your task 2 question there are a number of things you should keep in mind:
Know the expectations.
Read and understand the question first.
Write a strong introduction.
Follow an essay format.
Write a strong conclusion.
These tips will help you maximize your score for writing task 2.
1. Know the expectations
Before even putting pen to paper, you want to make sure that you understand what the examiners are expecting from you for your writing task 2.
There are four major criteria that go into calculating your band score: task response, coherence and cohesion, lexical resource, and grammatical range and accuracy.
You need to keep all of these in mind while composing your writing piece of for task 2. You will need to juggle all four of them in order to satisfactorily answer the writing task.
Task Response
In order to achieve a band 9 for task response, you will have to:
fully address all parts of the task.
present a fully developed position in answer to the question with relevant, fully extended and well supported ideas.
In order to achieve a band 7, you will have to:
address all parts of the task.
present a clear position throughout the response.
present, extend, and support the main idea, allowing for some over-generalization or lack of focus.
Basically, what task response wants from you is for you to fully answer the question. Writing Task 2 is an opinion piece. This means that within your answer you will want to include your response to the question as well as facts and arguments that support your opinion.
Ultimately, your piece of writing should clearly state a position and then support that position with strong arguments.
Coherence and Cohesion
In order to achieve a band 9 for coherence and cohesion, you will have to:
use cohesion in a way that doesn't attract attention
skillfully manage paragraphing
In order to achieve a band 7, you will have to:
logically organize information and ideas
use a range of cohesive devices throughout
present a clear central topic within each paragraph
The expectation for coherence and cohesion is that you will be able to tie your ideas together in a clear and concise way. You are expected to make use of cohesive devices in order to present your ideas to the reader in the clearest way possible.
What this means is that you should be organizing the information in your writing as clearly as possible. The best way to do this is to follow an essay outline. We will talk about how to do this more in-depth later.
Lexical Resource
In order to achieve a band 9 for lexical resource, you will have to:
use a wide range of vocabulary with very natural and sophisticated control of lexical features; only rare slips and errors
In order to achieve a band 7, you will have to:
use a sufficient range of vocabulary
use less common lexical items and collocations
produce only occasional errors in word choice/spelling
Most simply, your lexical resource is your vocabulary. This has multiple meanings than simply using fancy words, however.
You want to ensure that you're using a varied vocabulary, but you also want to make sure you are using the words accurately. You don't want to misuse words or word something in an awkward way.
Another important consideration for your writing is to include collocations. A collocation is a group of two or more words that regularly occur together. These are useful because they allow your reader to follow the writing easier by being able to predict what you're going to say next. Predictability is important for not only your lexical resource but also your coherence and cohesion. You want your writing to be easy to follow.
Grammatical range and accuracy
In order to achieve a band 9 for grammatical range and accuracy, you will have to:
use a wide range of structures with full range and accuracy; minimal errors are allowed
In order to achieve a band 7, you will have to:
use a variety of complex structures
produce frequent error-free structures
have good control of grammar and punctuation; few minor errors
You will need to ensure that your writing has a variety of different grammar structures and that you're using them accurately. Notice that you are able to make minor errors here. You do not need to be perfect or error free with your writing. So don't be afraid to try and include varied grammatical structures.
2. Read and understand the question first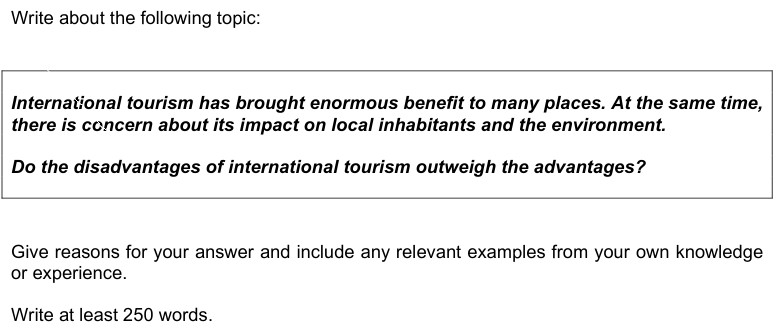 You will receive a question similar to the one above during your writing task 2. Before you even start to write, you want to carefully read this question. It will give you valuable information on how you should approach answering the question.
Most importantly, you will learn the topic of your writing from the question. In this case, you would need to write about the economic benefits and environmental impacts of international tourism.
You will want to make sure that you address everything mentioned in the question above including:
impact on local culture
impact on the environment
economic advantages/disadvantages
Another vitally important piece of information you need to take from the question is how you need to organize your information. There will be multiple ways the question may request for you to answer it.
For example, the question above wants you to compare the advantages and disadvantages of international tourism and give your opinion on the ultimate utility of this practice.
In other questions, you might be asked for your opinion directly (the best way to do something), or it may ask how much you agree or disagree with a premise.
Additionally, underneath the question box, you will find extra hints for answering the question. For example, in the question above it says this under the box:
Give reasons for your answer and include any relevant examples from your knowledge or experience
This gives you some valuable clues on what you can write about. Don't forget that in writing task 2 you are not only allowed to but required to give your opinion while writing. This will test your ability to clearly organize and present your opinions.
3. Write a strong introduction.
In order to write a strong introduction, you will have to write a thesis. If you have never written a thesis before, you should learn the proper way to construct and present a thesis in writing.
What is a thesis?
A thesis is the main topic sentence of your writing. In it, you state your main opinion and the supporting information which strengthens your main idea.
You thesis should be authoritative. You need to state your opinion clearly and with conviction. You shouldn't use language which makes you sound unsure or include multiple streams of information. When writing your thesis, you need to pick one main idea and focus on proving it correct.
How long should it be?
A thesis should be no longer than a single sentence. You should be stating your opinion and three supporting arguments that strengthen that opinion all within a single sentence.
Keep in mind that your thesis is not your introduction and it isn't where you expand on your ideas. It is only a piece of your introduction and should act as a quick overview. It lets your reader know what to expect in the subsequent writing.
Example thesis
Let's take a look at an example thesis by using the sample question from above. Take a moment to write your own thesis. It should be one sentence and include your main opinion with three supporting arguments.
Don't worry about getting it perfect. Writing a strong thesis is a skill that takes time to practice.
International tourism is an overall good for a nation because it strengthens the local economy, exposes people to new cultures and ways of thinking, and potentially allows for environmental protections.
You don't have to always agree with the question's premise, but I did here. You can easily break my thesis down into its separate pieces:
Main Idea: International tourism is good.
First argument: It strengthens the local economy.
Second argument: It exposes people to new cultures.
Third argument: It allows for environmental protection.
All of this is condensed into a single sentence. Note that the thesis does not expand on any of these ideas. It only introduces them. You should include your more complex ideas later on in your essay. Leave the introduction as only that: an area of the writing piece where you introduce information.
The rest of the introduction
Your introduction shouldn't begin with the thesis. You should restate the question you're going to answer in some way. Ideally, you should introduce the problem that you're going to address with your thesis in a clear and concise way. This introduces the reader to the problem and then how you're going to solve it.
Your introduction doesn't need to be long. It only needs to be a few sentences at most.
4. Follow essay format
An essay has a defined format that you should follow while writing. Knowing the proper structure of an essay allows you to more easily write without worrying about the structure of that writing.
Traditionally, an essay is comprised of three parts:
Introduction
Body
Conclusion
We already covered writing a strong introduction above. This should be a single paragraph (a few sentences).
After you write your introduction, you will want to move on to writing your body. The body of an essay is as long as your thesis. What this means is that for each argument you include in your thesis, you will include one body paragraph in your essay.
So for taking our thesis from above as an example, we would have three body paragraphs in the following essay:
International tourism is an overall good for a nation because it strengthens the local economy(1), exposes people to new cultures and ways of thinking(2), and potentially allows for environmental protections(3).
Each supporting argument will receive its own body paragraph. This allows you to fully explore each of your ideas. You want to keep each body paragraph as separate as possible. You don't want to mix your ideas together among each paragraph. This makes your argument difficult to follow. Your goal with writing is to make your ideas as easy to understand as possible.
After handling the body, your next goal is to write a strong conclusion.
5. Write a strong conclusion
A strong conclusion is one paragraph at the end of your essay which ties together everything you've stated.
It's important to understand that you do not add any new information into your conclusion. The conclusion is not for making new arguments. If you want to include additional information, you should do that in your body paragraphs.
The goal of the conclusion is to quickly and concisely restate all the information you presented in your essay. Therefore, all the information you include in the conclusion should come from the previous paragraphs in the essay.
Conclusion
Overall, the IELTS writing task 2 should closely follow an essay format. You want to make sure you're including all aspects of a strong essay in your writing. This includes a strong introduction and thesis, an essay format, and a strong conclusion.
Writing it in this way allows you to focus less on structure and more on content. You can write easier when you know how you will be structuring your writing. Learning and practicing proper essay format allows you to do this.
If you want personalized writing feedback, I offer affordable writing correction and feedback services (as low as $5USD!). You will receive writing corrections, personalized feedback, and a sample band 9 answer in as little as 24 hours after your purchase.